Design Ops in scalable design organizations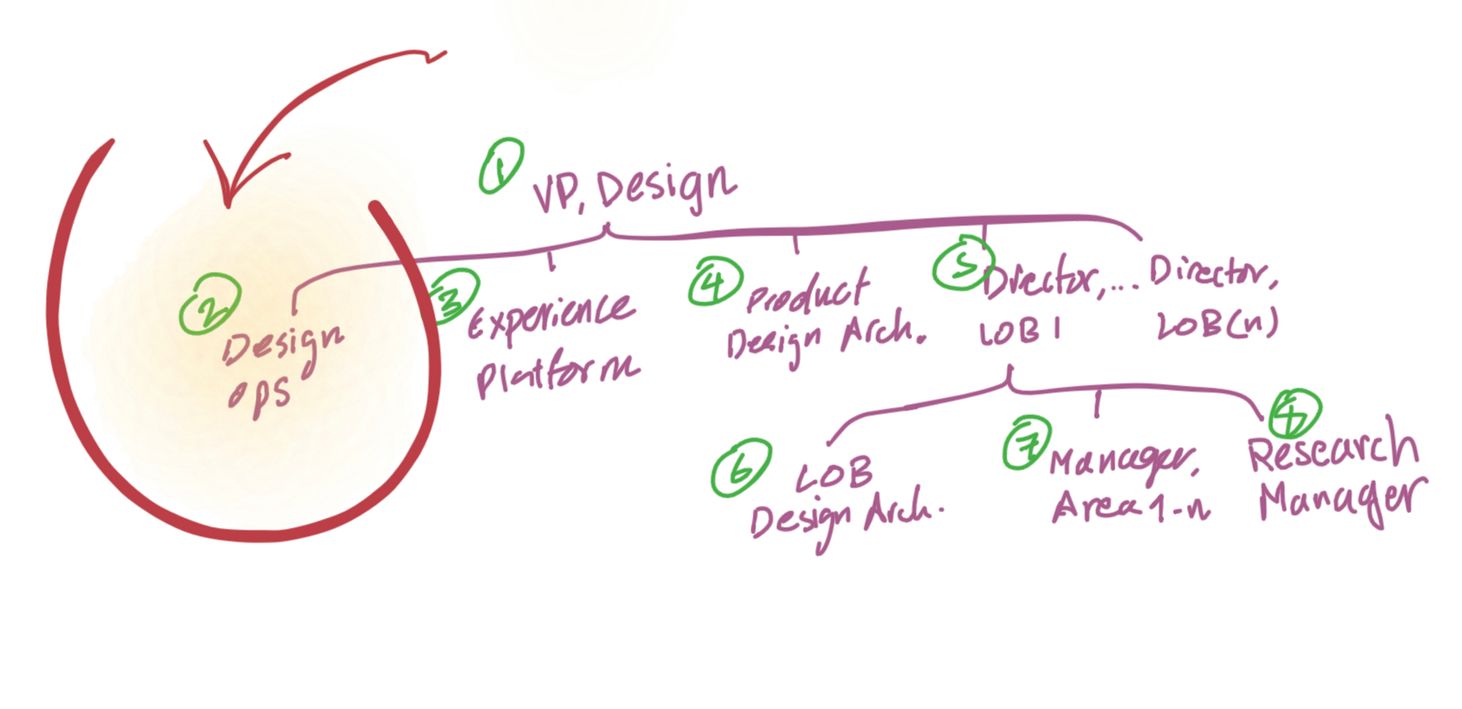 A few months ago, I shared a view of the design of a scalable design organization. As design organizations grow, and quickly, there is a critical need for ways to ensure their operational excellence. Design Ops teams have existed for a while but they operate somewhat differently depending on the org they operate within.
The below four areas of responsibilities, their goals, and example KPIs is an overall view of the role I see for design operations teams. To empower design operations team in this role, I make a few assumptions of the way they're setup and organized as follows:
Design Ops reports centrally into the head of design. This ensures that the head of design ops is capable of being the team's chief of staff and have the same context as the rest of the leadership team.
The design ops operates horizontally building end to end programs for the whole organization.
Design ops teams are small enough to be agile and large enough to be effective. That enables them to focus on high value areas and operate as force multipliers for the team vs. an additional layer of program management unique to design.
Product design managers are responsible for headcount planning and using the tools provided to them by operation teams to run their teams effectively. Design operations program managers collaborate with product design managers but do not replace the operational aspect of the role of a product design manager.
Let's take a look at the four core operational areas of design operations, their goals, and example key business indicators (KPIs) that could measure their success.
First: Chief of Staff
This role is generally performed by the same person leading the design ops team.
Goals:
Setup, manage, and continue to improve the team's rhythm of business.
Ensure leadership and overall team meetings are effective.
Ensure communication clarity across the organization, especially for leadership communication.
Special projects type of work.
Example KPIs:
Effective rhythm of business as measured by the team's and cross-functional team feedback.
Leadership team's operational excellence as measured through feedback from team members and cross-functional teams.
Communication clarity across the org as measured by feedback from quarterly team health surveys.
Second: Team Operations
This role is generally owned by the broader team while ensuring there is a single threaded owner that is accountable to this across the organization.
Goals:
Build the people playbook defining our culture, onboarding, and the ceremonies driving our cultural vehicle.
Provide the necessary training and education required for designers and managers to uplevel their craft, driving for outcome, and leadership skills.
Keep an engaged and connected team, especially in a remote environment.
Strive for excellence through information sharing (external speakers, internal lunch and learns etc).
Define and execute on internal communication and our external outreach strategy (conferences, social media, blog, company blogs, etc).
Keep an engaged, connected, and satisfied team, operating in a remote-first environment.
Example KPIs:
Areas of Team Health and Survey Results relating to team: Engagement, Social Connection, Learning and Development, Feedback and Recognition, Work & Life blend.
External awareness metrics: Social media presence metrics (Followers, engagement, etc), Article readership, Recruiting pipeline through external comms.
Third: Practice Operations
This role is generally owned by a single leader reporting to the head of design ops although their role is producing the playbooks and standards used across the org, in particular by product design and user research managers.
Goals:
Build the design operating model playbook defining our process expectations, end to end and north star experience work definitions, the way we work, and the way we collaborate with our cross-functional teams.
Define and share best practices and be the center of excellence for the practice.
Understand our process challenges and help resolve them by implementing these playbooks. This could be by directly embedding into teams (collaborating with managers) or by making overall improvements.
Train and help managers implement these practices within their teams and use that to improve the overall quality of the practice.
Example KPIs:
Operational effectiveness of the team (measured by the team and cross-functional teams).
Areas of Team health survey relating to practice: Teamwork and collaboration, Enablement, Alignment and Involvement, Learning and Development (as it relates to upleveling management skills).
Fourth: Research Operations
This role is generally owned by a single leader and is executed as a central program. Note that the ultimate outcome of this role isn't just supporting user researcher but building the programs to enable the whole design team to do effective user research and remain connected to customers.
Goals:
Build and improve the research program defining ways to do desk and customer research, interacting with customers.
Train designers, working closely with the research team, to do better evaluation research.
Empower designers to do that research by making it easier to connect with customers, share research results, and help designers "live in the customer's mind".
Help the research team be more effective at running conceptual and foundational research.
Example KPIs:
Average hours spent with customers per designer per week/month.
Research program ease of use and satastification rating from designers and user researchers.
Usefulness of information rating from designers and cross-functional partners.
In Conclusion
Design operations can help supercharge a team, expand their impact, and empower designers and design leaders to execute in more cohesive ways. It's a force multiplier type of investment that when done right, and kept at a reasonable size in the org, can have a huge impact on designers, researchers, and stakeholders.
Final note: big thank you to Afifa Tawil and Adam Fry-Pierce for reading an early draft of this article and helping shape my thoughts on design operations overall.


My Name Is Jehad Newsletter
Join the newsletter to receive the latest updates in your inbox.